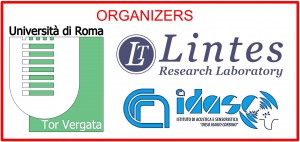 Welcome to the NGPT 2016 (Rome, Italy) website!
Nanogenerators can lead to novel self-powered devices that are small, flexible, integratable, and biocompatible.
Piezotronics deals with the coupling of piezoelectric polarization and semiconductor properties.
Both NanoGenerators and PiezoTronics (NGPT) are emerging interdisciplinary research areas which possess great promises for designing, powering, and operating innovative electronic, optoelectronic, photovoltaic, and catalytic systems.
The 3rd International NGPT Conference aims at fundamental understandings and practical development of nanoscale mechanical energy conversion materials and systems, and the coupling effect between piezoelectric polarization and semiconductor behaviors and functionalities.
Abstracts on the following Themes are particularly welcome:
THEME  I.     NANOGENERATORS
Nano-scale piezoelectric effect
Piezoelectric nanogenerators
Nano-scale triboelectric effect
Triboelectric nanogenerators
Flexible/wearable energy-harvesting devices
Self-powered devices/systems
Nanogenerators as active sensors
Nanomechanics and modeling of nanogenerators
THEME  II.    PIEZOTRONICS
Piezotronic devices
Piezo-phototronic devices
Piezocatalysis
Piezotronic electrochemistry
Interfacing piezotronics with biology/medicine
Piezotronics for sensors, MEMS and NEMS
Piezotronics for human-machine interface
THEME  III.   MATERIAL SCIENCE AND ELECTRONICS FOR NANOGENERATORS AND PIEZOTRONICS
Piezoelectric nanomaterials (synthesis / characterization)
Triboelectric nanomaterials (synthesis / characterization)
Circuits for nanogenerators
Circuits for piezotronics